Chand Sooran
Co-Chair Pitch Committee
New York
Chand Sooran is an investor and entrepreneur. He is the founder and CEO of EdgeworthBox, a SaaS-enabled marketplace for strategic sourcing. His experience spans public service, market-making in foreign exchange options, investing globally as a hedge fund special situations analyst, and leading positions in technology startups. A former naval officer in the Royal Canadian Navy, he is a graduate of the Royal Military College of Canada, Queen's University, and the Massachusetts Institute of Technology. He is also a CFA Charterholder and the Global Association of Risk Professionals has certified him as a Financial Risk Manager.
Dharti Desai
Co-Chair Pitch Committee
New York
Dharti Desai is a visionary Senior Executive and Entrepreneur with more than 20 years of success - spanning wines, printing, packaging, and the lifestyle industry. Leveraging extensive experience in innovative marketing and global leadership, Dharti is a valuable asset for companies requiring expert assistance with Go To Market strategy, global expansion, US and Asian B2C markets, or CRM strategy. Her broad areas of expertise include data profiling, marketing strategy and enhancement, branding, digital communications, imports, and Asian markets.  Dharti is the Founder and CEO of FineWinesnMore, a Mumbai-based fine wine retailing and marketing company. Since its launch in 2007, she has played an integral role in the development and implementation of the company's strategic communications platform, which serves as an interactive and educational platform for wine consumers of all types. She is also responsible for FWM's direct marketing strategies, pioneering a direct-to-consumer channel of sales and marketing, and growth of the company into the industry leader in innovation and education for wine consumers that it is today, with over 25,000 customers and an exclusive partnership with American Express. Dharti is also the Founder and CEO of MOS India Pvt. Ltd., a state-of-the-art print production company with clients in over 10 countries. In addition to running her own businesses, Dharti continues to provide consultation to growing companies in the areas of marketing and business development in the USA and India. Dharti holds a BA in Sociology from Mumbai University. She is the author of DM in India Guidebook and is a member of the Direct Marketing Association, USA, the International Council of the DMA, the Direct Marketing Ideas Club of NY, Asian Women in Business, New York and is a Charter Member of TiE NY. For two consecutive years, she was featured as one of the Top 10 Women of Wine in India by the Indian Wine Academy. Dharti is also a Founder Ambassador of the non-profit family trust Animedh Charitable Trust (ACT) fueling the cause for women's economic empowerment and for girl child education in India. Dharti sits on the board of Crave.social – a social media marketing agency and is on advisory boards of companies in the digital marketing and Not for profit sectors. She is an investor in companies in the fashion, Fin-tech, hospitality and healthcare spaces. Dharti is currently mentoring women entrepreneurs of AIRSWEEE 2.0 (All India Road Show for Women's Economic Empowerment through Entrepreneurship) - a project by TiE Global and funded by the US Mission to India.
Sachin Shah
President, TiE New York
New York
Sachin is the Chief Revenue Officer at 55 Institutional responsible for revenue generating processes. Previously, Sachin was the Chief Operating Officer at Ada Investments, acquired by 55 in 2016. Prior to joining Ada, Sachin developed and managed the Emerging Manager Fund Allocation platform at RBC Capital Markets. In his first startup, Sachin co-founded Nextgen Trading, LLC – an institutional-facing fin-tech company that was later sold (under the name Carlin Financial Group) to RBC. During this period at Carlin, Sachin led the Prime Services sales team catering to emerging hedge funds. In his earlier years, Sachin held positions at US Trust, RBC and Bank of America where he worked on equity and M&A research. In addition, Sachin volunteers both as the President and Chairman of the Board of TiE NYC (The Indus Entrepreneurs) and as a Mentor for the Accenture Fintech Innovation Lab. He holds a BBA in Finance from The George Washington University.
Craig Abbott
Charter Member
New York
Craig is a strategic advisor to a number of financial sector firms, startup ventures and partnerships for new initiatives. He is the managing partner of CWA Advisors LLC, a consultancy and advisory firm, and has an extensive background in financial services with a focus on new products, technology and financial/risk controls.   Craig started his career in New York with Citibank's Operating Group before moving to Chicago to join First Chicago Corporation where he led the launch of the first Visa Travelers Cheque product.   He directed First Chicago's European systems and operations in London as the international branch network was consolidated and reconfigured. His other career assignments included Chief Operating Officer in London for Swiss Bank Corporation (now UBS), Managing Director of derivatives technology and operations for Lehman Brothers Inc. in New York and Chief Administrative Officer for the North American units of Caisse des Depots (now Natixis). Craig established CWA Advisors as a financial technology consulting and advisory firm to bring his experience in business development, strategic business startups and technology innovation to pioneering firms in the U.S. and abroad.  He has expanded his interests to include startup ventures focused on Fintech, Medtech and Edtech where he provides guidance on governance, strategy and financial matters. He is a director of Cochrane Ranche Inc., a private Canadian natural resource company and has been a long time board advisor to Suite LLC, a fin-tech provider of financial models and software. Craig is a graduate of the University of New Hampshire with a degree in economics where he has served on the International Board of Visitors as well as a current Director and Executive Committee member of the Alumni Association Board. He is a Charter Member of TiE New York and actively involved in the open mic and mentoring programs as well as an angel investor.
David Teten
Managing Partner, HOF Capital
New York
David Teten is a Managing Partner with HOF Capital and Founder of Harvard Business School Alumni Angels of Greater New York, the largest angel group on the East Coast. His primary interests include fintech, technology-enabled services, analytics, artificial intelligence, sales/recruiting technology, SaaS and international startups. David was previously a Partner with ff Venture Capital (one of the best-performing seed- and early-stage VC firms in the US), Founder of Navon Partners (a software startup which identified private companies for investment using public data sources), Acting CEO of Vertical Key (a SaaS business for managing large-scale events). He was also a Managing Director with Evalueserve, CEO of Circle of Experts, Founder and CEO of GoldNames and a co-founder of PEVCTech (an online community focused on helping private equity and VC funds make better investments through technology). Further, he was on Bear Stearns' technology/defense M&A team. He has advised Goldman Sachs Special Situations Group, Icahn Enterprises, LLR Partners, Birch Hill Equity Partners and other institutional investors. David holds a Harvard MBA and a Yale BA. He writes regularly on teten.com and has led studies on DisruptInvesting.com.
Loretta McCarthy
Managing Partner, Golden Seeds
New York, United States
Loretta McCarthy is Managing Partner of Golden Seeds. She is responsible for the Golden Seeds angel network nationwide, including member cultivation, orientation and engagement. She is a frequent speaker – in the US and internationally – about early stage investing, women entrepreneurs and gender diversity. Prior to Golden Seeds, she was Executive Vice President and Chief Marketing Officer at OppenheimerFunds, a leading asset management firm, as well as Vice President of Marketing at American Express. She brings to this role deep experience in strategy, marketing, product development, public affairs and corporate communications. She has extensive experience serving on boards of directors of corporations and non-profit organizations.
Tejpaul Bhatia
Tejpaul Bhatia, NY Startup Program Lead for Google Cloud
New York
Tejpaul Bhatia is the NY Startup Program Lead for Google Cloud. He was most recently an Entrepreneur in Residence at Citi Ventures. His most recent startup post was as COO for Explain Everything, an interactive screen casting whiteboard app. He also served as CEO and co-founder of Chatwala, a mobile video chat app and Kaptur (acquired), an app that enables users to aggregate photos taken at an event in seconds. Prior to founding Kaptur, Tej was Senior Manager of Product and International Strategy for ESPN, where he launched ESPN3 in the US, Mexico, Brazil, and Europe. He also co-founded Media Strategy Partners, a media asset management consulting company. Tej began his career as a digital media consultant at Scient and Sekani.
Anuvab Pal
Comedian
New York
Anuvab Pal is an internationally renowned playwright, screenwriter, stand up comic and author. He has been featured as rotating co-host on the The Bugle Podcast. As a corporate stand up comedian, Anuvab has delivered around 400 shows, primarily for Fortune 500 companies. Prior to becoming a comedian, Anuvab spent 20 years in financial services including working in sales and product development building web-based solutions for investment bankers, VC's, hedge funds, and investment management companies at Reuters, in investment banking as a financial analyst during the Internet IPO tech boom and as an intern at the Federal Reserve in Chicago. He also led finance and operations for his family business, a landmarked floating hotel in the Guiness Book of world records as the first in India. His professional experience gives him a unique approach to comedy. His content is less about jokes and more about how new ideas can be applied to thinking about how day-to-day work in banking, coding, relationship management, HR, law, technology could be done or thought about differently. His stand up shows are centered on the workplace of today, the global economy, technology, big data, doing business in India and China, office politics, corporate jargon (What does Webinar really mean? What is dotted line reporting?") and interview ironies (My only weakness is I take on too much responsibility" Hmmm…). Anuvab has published four novels, two award-winning screenplays and four stage plays produced around the world. His alma maters include La Martiniere, Calcutta and Ohio Wesleyan University.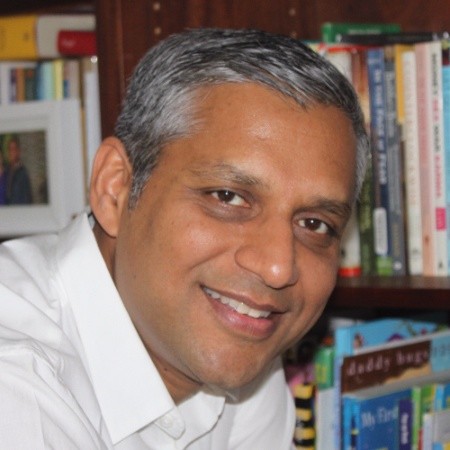 Sab Kanaujia
Charter Member
New York
Sab Kanaujia is a digital/technology entrepreneur, executive and advisor. He advises and sits on the boards of several startups and non-profit organizations. Kanaujia is also a Senior Advisor to the Government of India on digital innovation. Over the last twenty years, Kanaujia has incubated, launched and grown a number of innovative products and businesses globally. He played a key role in using digital technology to pioneer new paths in the industry through Hulu.com, TMZ.com, Network Live, NBC Learn, In2TV, ePlus, Tensports.com, Total movie.com, Mela, Apigee (acquired by Google) and Secret Cinema, where he acted as interim CEO. Having participated in building several digital technology-enabled scalable, disruptive businesses in the media & entertainment industry, Kanaujia recently launched Dia Ventures in order to create similar transformative value in even larger legacy industries like healthcare, finance and education that are ripe for major digital disruption. Earlier, Kanaujia was the Chief Strategy Officer and Executive Vice President, Business Development at Total Media Networks SA, that operated Totalmovie.com across 40+ countries in Latin America and worked with leading global mobile carriers to offer consumers premium video entertainment services. TMN was backed by the Founder & Chairman of Grupo Salinas, a business conglomerate generating over $6B in annual revenue across Americas. Prior to that, Kanaujia was the Founder & CEO of Mela, an Intel Capital-backed global, multi-platform consumer entertainment service that offered fans premium South Asian programming in high-demand international markets. He launched and rapidly expanded Mela to over 55 countries, leading to its acquisition.
Samir Chokshi
Charter Member
New York
Samir is Founder/Managing Partner and Chief Investment Officer of Magara Capital. He has fifteen-years experience as an investment professional evaluating businesses in a significant variety of industries. He was a portfolio manager at 40 North Management LLC, Polygon Investment Partners and an M&A analyst at Sandell Asset Management and Merrill Lynch. He holds graduate degrees in law and accounting and has clerked for a federal appellate chief judge. He is also been a mergers and acquisitions lawyer.