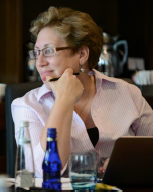 Amy Millman
President, Springboard Enterprises
Amy Millman is a passionate advocate for women entrepreneurs building Big Businesses Starting Small. In 2000, Amy co-founded Springboard Enterprises, to accelerate the growth of entrepreneurial companies led by women through access to essential resources and a global community of experts. It is now the leading network of influencers, investors and innovators dedicated to building high-growth companies led by women who are transforming industries in technology and life science.
The Springboard portfolio numbers over 750 companies securing investment of financial and human capital for product development and expansion, having raised over $10 Billion, created tens of thousands new jobs and generated billions in annual revenues. With 190 exits to strategic acquirers and 20 IPOs, Springboard entrepreneurs are transforming industries.
During her career in Washington, DC, she served as a lobbyist for several industry groups and was appointed as Executive Director of the National Women's Business Council, a US federal commission, from 1993-2000. She's a graduate of Carnegie Mellon University and holds a Masters degree in Public Administration from The George Washington University.
Kanwal Rekhi
Managing Director, Inventus Capital Partners
Kanwal was the first Silicon Valley Indo-American Founder & CEO to take a venture-backed company public on the NASDAQ. He then became high profile super-angel while co-founding and leading TiE (The Indus Entrepreneurs) into the largest global mentoring network for Indian entrepreneurs. Kanwal has co-invested and worked with John for 20 years and they founded Inventus in 2007 to institutionalize their high-conviction early stage approach to help Founders build category defining companies.
At Inventus, Kanwal has led the investments or been on the Boards of Assured Risk, FundsIndia, Poshmark, StatX, Sierra Atlantic (ACQ: Hitachi), Intellivision (ACQ: Nortek), GenWi (ACQ: Persistent Systems), Espresso Logic (ACQ: CA Technologies) and actively mentored the Founders of redBus & Power2SME.
Kanwal earned a BSEE from IIT-Bombay and a MSEE and Honorary Doctorates in both Business and Engineering from Michigan Tech.
He also founded the Kanwal Rekhi Schools of Information Technology at the IIT-Bombay and Michigan Tech.
Ed Albrigo
CEO, Center for Innovative Technology
A highly accomplished executive with a track record of setting and attaining compelling business goals
• Builds and leads high performance and execution-driven organizations
• Defines and executes strategies to drive change and solve complex problems
• Brings innovative solutions into markets or internal operations
• Outstanding communicator and persuasive with a wide variety of stakeholders
Raj Valli
Founder & CEO, Thinkster Math
Raj Valli is the founder and chief executive officer of Thinkster Math,an innovative AI augmented educational software platform that works across all devices and leverages human interaction with certified math instructors. In a very short time period, Thinkster Math has become the world leader in offering personalized tutoring program using innovating and patent pending technologies.
Thinkster successfully combines the best aspects of man and machine to offer a superior learning experience for students across the world. With over seventeen years of experience, Raj previously served as chief of marketing and head of business development for WABCO Holdings Inc. and held leadership positions with Honeywell/AlliedSignal. His commitment to improve K-12 educational opportunities for children has fueled his support of non-profit organizations such as Asha for Education for the past 20 years, and has provided the inspiration for his numerous published articles.Raj holds a Master of Science degree from the Indian Institute of Technology (IIT) in Chemistry, a Master of Business Administration from University of Maryland Smith School of Business, and a Master of Science from University of Virginia. He is a chartered financial analyst and a Certified Six Sigma Black Belt, and has served on the advisory council for the Software and Information Industry Association (SIIA)
Santosh Abraham
Partner, Codifyd
Strategic entrepreneurial-minded Executive with diverse experience ranging from entrepreneurial ventures, capturing and closing enterprise-wide deals, creating and executing unique business partnerships and marketing strategies, and leading organizations to outperform the competition. I have enjoyed the privilege of building two start-up companies in predictive analytics and machine learning over the past decade working with high impact Data Science teams and domain experts to solve diverse problem sets ranging from Marketing Performance management, Customer master data management and analytics, Programmatic advertising, Web Analytics, Customer Relationship Management (CRM) and e-commerce.
I am supremely deal oriented with the mentality that winning new business,no matter the effort involved is paramount. Operating with the highest level of integrity is extremely important as I strive to do what I say I will do. Start-ups are in my DNA and nothing gives me greater joy than building a high performance company working with people who share my values and play to win.
Sundi Natarajan
Founder, Sparksoft
Senior Executive with over 20 years of management experience in enterprise software, consulting and finance industries. Proven track record of delivering profitable growth in extremely competitive markets based on an ability to recruit, build and motivate high performance organizations. Hands on experience managing product lifecycle process across multiple product lines resulting in new industry benchmarks for quality and innovation. Worked collaboratively with partner organizations, resellers, and vendors.

Charter Member & Board Member at TiE-DC - Washington's largest organization of entrepreneurs, dedicated to fostering entrepreneurship and innovation throughout the Mid-Atlantic region, from Richmond to New York. www.tie-dc.org

Specialties: • Enterprise software • Analytics
• Product development and marketing • Performance Management
• IT strategy and operations • Strategic planning
• Regulatory compliance • Total Quality Management
• Quality assurance programs • Mergers & Acquisitions
• Offshoring
Jai Saboo
Harmonia Holdings
Mr. Saboo is a lifelong entrepreneur with a unique understanding of technology as well as business and strategic issues and a solid track record of building and operating successful technology and technology related services companies. He started his entrepreneurial career in 1993, launching Concept Software, a software services firm that specialized in large high-end client-server systems for Fortune 500 clients. He sold Concept Software in 1999 and subsequently co-founded Installation Included Inc., serving as its Chief Technology Officer and directing the developing of its state-of-the-art IT systems for logistics support, and helping the company raise more than $20M in funding.
Shiva Thirumazhusai
Founder, Nasotech, LLC.
Prabakaran Murugaiah
CEO TechFetch.com
Raj Rai
Venture Investor, Company Builder
Mahesh P. Joshi
President, Joshi International, inc.
Pallabi Saboo
CEO, Harmonia Holdings Group, LLC.
Manish Malhotra
CEO, Unissant, Inc
Dynamic senior executive and public speaker with over 25 years of technical and management experience. An entrepreneur with extensive experience in leading large-scale business transformations using information-driven solutions enabled with technologies that span mobile, digital, analytics and domain-specific applications. Over the course of his career Manish has led numerous efforts to provide analytical and intelligent decision support to senior officials across the private and public sector.

Business & Technology Skills:
Corporate Strategy, Corporate Finance, Government Contracting, Human Capital Management, Entrepreneurship & Innovation.
Emerging Technologies, Blockchain & Distributed Networks, Cloud Computing, Enterprise Architecture, Business Intelligence Solutions, Program & Portfolio Management, Big Data, and Artificial Intelligence

Frank Bonsal III
Investor & Startup Eco-System Leader
Ravi Puli
Founder& CEO, International Solutions Group
Sheela Murthy
President/CEO
Sheela Murthy is an entrepreneur, philanthropist, public speaker, and an internationally recognized U.S. Immigration lawyer. She is the President/CEO of The Murthy Law Firm, and is a Harvard Law alum. Ms. Murthy and her husband co-founded The Murthynayak Foundation, a socially transformative nonprofit.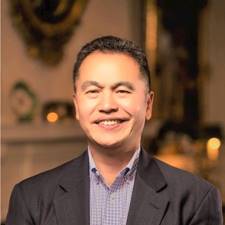 Steven Chen
CEO of PFP Cybersecurity, Investor at Blu Ventures
An serial entrepreneur, investor and mentor. Experience includes CEO of an Intel Capital portfolio company, 20x exit, CTO and m&a for a $150M public company, $300M+ SBIR contracts, chairman of the IEEE 1451.5 Std for Wireless Sensor Networks. Currently founder of 2 startups, investor of 10+ companies and advisor for multiple companies.
Interests: cyber security, IoT and data analytics.
Anand Muralidaran
Founder and CEO, Iconic Mindset
Quote - "Self-Disruption is the best form of disruption that can happen to anyone. Anything else is usually painful and potentially catastrophic"

Consultative Sales/P&L Portfolio leader focused on delivering strategic value to Customers, while growing the portfolios.

Laser focused on building new and strengthening existing Executive relationships with Customers and Partners and creating a perfect ecosystem for harmonious growth.

Provide strategic advice and value to the pursuits, by enabling and coaching my team to be insanely customer-fanatic.

Truly believe in aligning every channel to the Customer to drive the best result. Tactful in building win-win-win partnerships with Partners and Customers.

Help gain the respect and trust of Customers & Partners as their Trusted advisor for self and team.

Eternally curious Technology/Business Leader with 2 decades of experience in Consulting, Services, Digital Transformation, Sales, Channel Partnerships, Marketing and P&L leadership.

I have opened markets (US, Mexico, South America, Canada, Europe), built lifetime relationships and grown portfolios in Retail, Consumer, Media, Entertainment, Transportation and Technology verticals.

Extremely passionate and fanatic at the intersection of Retail/CG, Commerce, Digital and Physical.

Well-rounded experience - Enterprise, Startups and Corporate VC. Played the evangelist role at Wipro Ventures for Consumer BU. Responsible for scouting startups, due-diligence, investing and building awareness to drive pipeline growth across the Business Unit.

Share my ideas and POVs at https://twitter.com/anandmeans... and https://anandrites.wordpress.c...
Prof. Dr. Raj S. Davé, JD, LLM, DSc
President, Davé Law Group, LLC
Prof. Dr. Raj Davé is the President and Founder of Davé Law Group ("DLG") having a head office opposite the United States Patent and Trademark Office in Virginia, USA (www.davelawgroup.com). He is the Gujarat Council of Science and Technology (GUJCOST) Intellectual Property Rights (IPR) Chair Professor at Gujarat National Law University. He has lectured in multiple countries and taught courses on Innovation and Patent Law in China and India. He is the Chairman of the Patent Facilitation Committee of the Government of India.

DLG has offices in the US, India, Europe and Japan, with a back office in Bangalore, India, named LexpertConsilium LLP. DLG's practice focuses on providing US style IP legal services in the US, India, Europe and Japan. The services include searches, patent preparation and prosecution, counseling (opinions), and patent litigation. DLG has experienced IP attorneys in Europe, India, Japan and the US.

Dr. Davé focuses on intellectual property counseling, patent prosecution, dispute resolution, licensing, technology transactions, intellectual property mining and enforcement, reexamination and reissue practice, pre-litigation opinions and patent litigation. He has formed strategic alliances with major investment groups to finance patent litigation.

Dr. Davé is an expert in bio-pharmaceuticals and represents several drug companies. He has also assembled a highly experienced team of experts from a cross-section of key practice areas, including FDA/regulatory, ANDA litigation, technology transactions, and trade secrets.

Vishal Gupta
Global CTO and Senior Vice President, Technology at Unisys
20+ Years of Senior Business and Technology Leadership experience in growing or turning around Software products and businesses or functions like Services with deep expertise and passion in Internet of Things, Cyber Security, AI and Machine Learning, Globalization, and enabling companies to move from products to solutions and leading large scale organization transformations.

Specialties include Healthcare and other Vertical Solutions for Internet of Everything, Security, Centers of Excellence, and creating innovative and secure products. Global GM for Customer Experience involves defining, developing, and taking to market technologies like Analytics, AI, Video, Mobility, and Cloud to transform customer experience in Healthcare, Finance, and Retail. Expertise in creating compelling and shared vision, creating a differentiated strategy, and aligning a global team to execute on that strategy. Functional expertise in Strategy, Services, Sales, Product Management, Cyber Security, Secure Communications, Machine Learning, and Enterprise Security.
Smita Siddhanti
President of EnDyna Inc.
Experienced President with a demonstrated history of working in the management consulting industry. Skilled inGovernment, Energy Policy, Environmental Impact Assessment, Risk Assessment, and NEPA. Strong businessdevelopment professional with a Ph.D. focused in Technology and Public Policy from University of Pittsburgh.
Sumeet Shrivastava
CEO & President, ARRAY
Current Role
Sumeet Shrivastava is an accomplished executive and proven business leader with more than two decades of experience in the government IT industry. As President and CEO of ARRAY, he provides overall corporate leadership for the company's growth strategy, which has included a successful graduation from the 8(a) program and recently lead a management buyout of ARRAY.
Background
Prior to ARRAY, Sumeet was SVP for Public Sector at Keane (now NTT Data) and also spent time as the SVP for North American Commercial Sales and Marketing. As EVP and COO of ANSTEC, a Government IT contractor, he architected the company's sale to Keane. Sumeet's experience has traversed the full range of early-stage small business to a competitive, mid-tier contractor, including on both sides of M&A transactions. Sumeet has been committed to his alma mater, George Mason University (MBA '94), and the regional community throughout his career. He serves on the GMU Foundation Board of Trustees, is the President of Mason's Alumni Association, and sits on the Dean's Advisory Council for the Business School. Sumeet also sits on the Board of Directors of the Children's Science Center.