Safeena Husain
Founder & Executive Director, Educate Girls
Safeena Husain, an active social worker, is the founder and Executive Director at Educate Girls – a non-profit organisation that is headquartered in Mumbai, India. It focusses on mobilising communities for girls' education in India's rural and educationally backward areas. Under her leadership, Educate Girls' launched world's first Development Impact Bond in education which on its completion in 2018 surpassed both its target outcomes.
Safeena graduated from the London School of Economics and has worked in the development sector with both rural and urban under-served communities around the world. From 1997 to 2004, she was the Executive Director for Child Family Health International in San Francisco, CA USA, managing and supporting a range of development programs in the area of health. Safeena was also Board Chair of the International Development Exchange in San Francisco, a non-profit organisation that promotes sustainable solutions to counter poverty in Africa, Asia & Latin America.
In 2011, she was elected one of the Asia 21 Young Leaders by the Asia Society. She is a Rainer Arnhold Fellow and was featured as a speaker at a TEDxASB event on the subject of "Rejuvenating Government Schools in India for Girls' Education". She was also featured as a Times Now "Amazing Indian"
Kartik Desai
Executive Director, Asha Impact
Kartik leads Asha Impact, an impact investing and policy advocacy platform, a capital-on-call multi-family office for Indian business leaders, UHNIs and philanthropists to invest in scalable, for-profit social enterprises. Asha Impact also works with the Indian government on sector-specific advocacy based on the experience of its investees and building the market for blended instruments like impact bonds through its non-profit trust.
Prior to setting up Asha in 2014, Kartik worked with two pioneering impact funds in India – Lok Capital and Aavishkaar – was an investment banker with DSP Merrill Lynch, and consulted with the Rockefeller Foundation and the UNDP in the US and Africa. He has led several pioneering initiatives in building the social enterprise and impact financing ecosystem in India such as being a judge on the world's first reality TV show on impact investing, launching a social enterprise operating a co-working center and digital polling platform for underprivileged youth in Delhi, teaching seminars on impact investing, authoring op-eds and policy papers on different development issues, and being selected as a 'Champion of Change' by the Indian PM's office and Niti Aayog.
He has led investments into twelve early-stage enterprises and is also a board member and member of the Executive Committee of the Impact Investors Association representing 40+ organisations and member of the India Steering Committee of the Aspen Network of Development Entrepreneurs. He completed his education at the Wharton School at the University of Pennsylvania (Bachelors in Finance) and SIPA at Columbia University (Masters in International Affairs).
Sujay Santra
Founder & CEO, iKure
Sujay Santra has worked in tech MNCs for over 12 years, before founding iKure in 2010. The social venture was incepted with the vision to provide affordable and accessible, quality primary healthcare up to the last mile using technology intervention. Realizing that there will never be sufficient doctors to treat patients in India individually, iKure led by Sujay is changing the public healthcare system from an individualized curative model to a community based preventive healthcare system to ensure holistic well-being of communities. Within just a few years, iKure is catering to 11 million underserved people across eight states in India & treated more than a million patients. Today, iKure is recognized as a prominent sustainable primary healthcare model in the world.
Sujay's strong technology & business skills backed by his never-say-die spirit has led iKure to many milestones. In recognition of his outstanding efforts in the field of social innovation.
He has received numerous awards and accolades for his work. He was awarded the Ashoka Fellowship & received appreciation by the Hon'ble President of India, Shri Pranab Mukherjee in 2016. He was awarded as a NDTV Good Samaritan of the Year 2016 & nominated among the
'100 Most Impactful Healthcare Leaders' by World Health & Wellness Congress in 2018. An eminent speaker across the global platform, Sujay did MCA from IETE and EPGM from MIT Sloan School of Management, USA.
Ganesh Natarajan
Executive Chairman and Founder of 5F World
Dr. Ganesh Natarajan is Executive Chairman and Founder of 5F World, a platform for Skills, Start-ups and Social Ventures in India. The 5F Wolrd family includes his investee companies and joint ventures. Dr. Ganesh is also the Founder and Director of Kalzoom Advisors, a joint venture with New York based Chesapeake Inc and Center for Artificial Intelligence and Advanced Analytics (Center for AIA), a joint venture with Systech Solutions.
Dr. Ganesh Natarajan has over 30 years of Industry experience including 25 years as CEO for Aptech & Zensar Technologies. His expertise areas are Manufacturing, Information Technology Franchising and Education. He is a PhD from IIT-Bombay and an alumnus of NITIE and Harvard Business School.
He has led Innovation and Knowledge Management Initiative nationally for CII and NASSCOM and has been Chairman of NASSCOM and NASSCOM Foundation. Case studies on Ganesh and Zensar have been developed and taught at the Harvard Business School.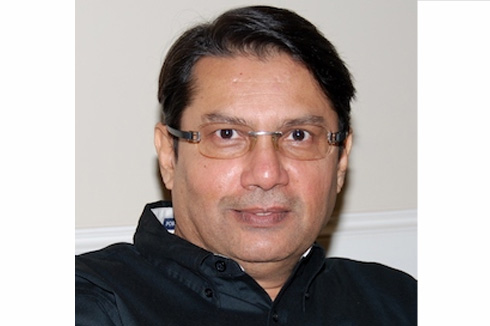 Jayesh Parekh
Managing Partner & Senior Advisor, Jungle Ventures Fund
Singapore
Jayesh Parekh is a Managing Partner & Senior Advisor at Jungle Ventures Fund, a Pan-Asian Venture Capital cross-border technology fund based in Singapore. Jayesh is a Co-Founder of Sony Entertainment Television, a major television network of Sony Pictures Entertainment, which he successfully exited in 2013.

Jayesh is on the Advisory Board of Akhand Jyoti Eye Hospital in India. He is on the Board and the Investment Committee of Aavishkaar India II Fund and Aavishkaar Frontier Fund, which are social impact funds. He is also on the Board of Sanctum Wealth Management, One Animation, Milaap and Infinite Esports & Entertainment.
He spent over 12 years at IBM in Houston and Singapore, and part of the team that brought IBM back to India. Jayesh holds a Bachelors degree from Maharaja Sayajirao University of Baroda and a Masters degree in Electrical Engineering from the University of Texas at Austin.
Smita Siddhanti
Founder & President of EnDyna Inc.
Virginia, DC
Dr. Smita Siddhanti, President and founder of EnDyna Inc., an environmental and management consulting firm, working with several US federal agencies. A nationally recognized expert in public health risk assessment and environmental management, she has worked extensively with federal and state agencies to develop regulations, policy, guidance, technology evaluations and management approaches to environmental protection, and training. She serves on the board of University of Pittsburgh and has served on the Virginia Governor's Air Quality Board. For the last two decades, Smita has been actively engaged with Rural women entrepreneurship in villages of Maharashtra. Dr. Siddhanti is the current President of TiE-DC and a Trustee on the TiE Global Board.