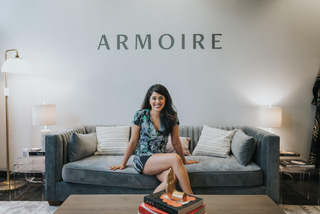 Ambika Singh
CEO , Armoire
Seattle, United States
Ambika Singh is revolutionizing the way women dress as Founder & Chief BossLady of Armoire, a high tech rental clothing startup based in Seattle. Armoire members forego wasting hours scrolling through endless retail webpages, or feeling their way through crammed racks of clothing. Instead, an Armoire membership provides busy women with a curated collection of fresh fashion—enabled through a mix of algorithms and a closed feedback loop with customers. Armoire creates the possibility for discovering and experimentation for their members, while elevating sustainable, women owned brands. The community of Armoire Boss Ladies support each other while saving time, saving money and saving the earth.
A graduate of Dartmouth College and MIT's Sloan School, Singh brings 15 years of experience in the tech industry, working across diverse organizations wearing a variety of hats. Singh played a key role in the creation of internet startups Rover.com and TravelPost.com, as well as two major Microsoft product launches.
Singh has been recognized on the Puget Sound Business Journal's 40 Under 40 list and profiled by The Seattle Times. She has been featured in the Wall Street Journal, the New York Times, the Today Show & has spoken at Amazon, Microsoft, American Express, Stripe, Harvard Business School, the Massachusetts Institute of Technology, and the UW Foster School of Business.
Rathna Sharad
CEO(Jan 2018 - Till Now)
Seattle, United States
Rathna Sharad started her career as a developer, and eventually led product organizations in the transportation and logistics industry including UPS, building multi-modal, cross-border route optimization solutions across North America, Asia and Europe, optimizing global supply chains and architecting global trade/tariff solutions with customs organizations around the world.
She was then a founding member of the ad platform team Microsoft and led Product teams at Bing Ads where she was responsible for driving advertiser strategy, marketplace and monetization working with the largest retailers and brands around the world.
She co-founded Runway2Street when she found that her own experience as a consumer buying from international sites was horrendous, and felt that her past life solving cross border did not translate to a great B2C consumer future she was powering at Microsoft. She then founded FlavorCloud as an enterprise ecommerce SaaS solution in 2018 when she realized that the "anywhere to anywhere" logistics became a critical need in the industry, to enable any brand to go global. She was recently a Forbes #Next1000 honoree as CEO of FlavorCloud.
Pradnya Desh
CEO
Seattle, United States
Pradnya Desh is the CEO of AdvocatAI, a legal intake, research and drafting platform that makes corporate contracting faster. She is driven by the belief that technology can make legal services efficient and affordable. AdvocatAI completed a $1.3M seed round in March 2021, and won the San Diego Angel Conference.

She is an attorney and was Managing Partner of Desh International and Business Law, an award-winning ten-attorney law firm where she managed the attorneys, staff and operations. She also negotiated deals and advised on commercial law matters including contracts, licensing, and international trade.
Formerly, Ms. Desh was a US diplomat in the State Department, and a U.S. trade negotiator with USTR in Geneva. She represented the United States in international organizations, including the WTO and the UN Committee on Trade and Development. Ms. Desh joined Governor Christine Gregoire's trade delegation to India and Korea in October 2012, and Governor Inslee's trade delegation to Korea and Japan in 2016.